First things first
Collaboration is initiated by the school. The authorised school user logs in to CoursePricer, selects "Manage Agents", and then enters the contact email address in the field provided and clicks "add". The agent then receives an automated email which allows him/her to log in to CoursePricer, update contact details and download embed code for their partner school (or schools if more than one). They then paste the code into their website.
Why should this interest agents?
This provides important support to cooperation between schools and agents, by
Enabling the Agent to offer a co-branded instant quote service to their student visitors
Ensuring that all student enquiries and emailed quotes are copied to both agent and school
Making the school entirely responsible for updating price information (no more emails/PDF uploads)
In other words, CoursePricer
Upgrades the service the agent offers to students
Attracts new business and generates new leads
Liberates the agent because price info updates automatically.
How does it work?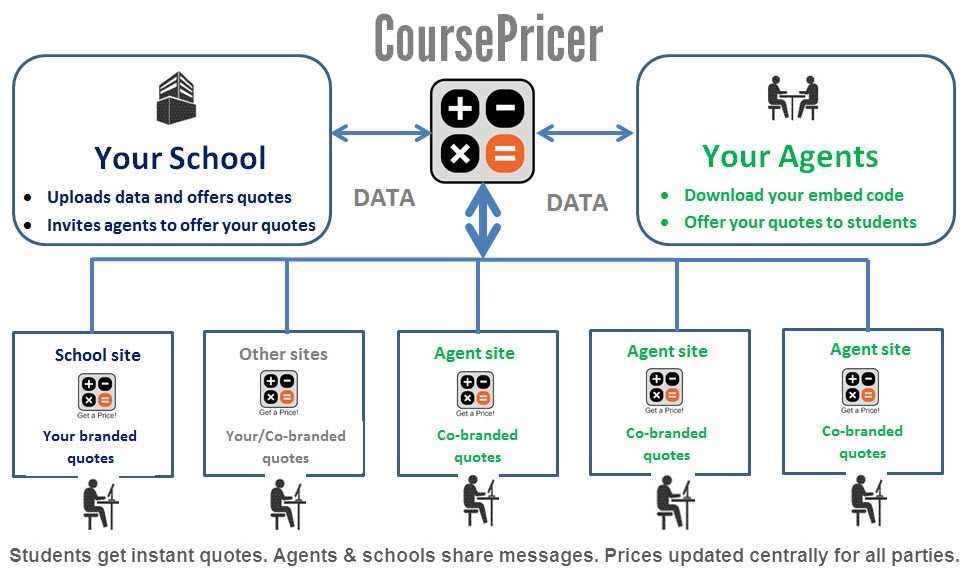 What does it cost?
CoursePricer subscribers can install the system on up to 5 domains at no extra cost. And that number may be increased (in batches of 5) for a few Euros.

It's a great low cost service: good for the agent, good for the school, good for the partnership.
What should agents do to get started?
1. Agents should contact their partner schools and ask for a CoursePricer invitation.
2. The school adds the agent's contact details to their admin section. CoursePricer will send a login link.
3. The agent logs in and enters company contact details and location, generates the CoursePricer code for selected school and then pastes it into the agent site.

That's it!
If you have any questions contact us.
COURSEPRICER® is a registered trademark